Dior Addict Perfume Review – A Haunting Vanilla Scent
Thierry Wasser is the perfumer who created Dior Addict. He's one heck of a perfumer because I am indeed addicted to Dior Addict. He looks pretty cool too, and I totally didn't expect him to look like this:
He's just so charming, isn't he? Before I saw his photo, I had imagined Thierry Wasser to be an elderly gentleman as Dior Addict was released quite some time ago. It is a magnificent perfume so I thought the perfumer must be somebody with many years of experience.
Dior Addict 2002 (Original Version) Notes and Bottle
Now that we're done admiring Thierry Wasser, let's get back to the perfume. Dior Addict was created in 2002 but it had undergone two reformulations in 2012 and 2014. Supposedly, the vintage Dior Addict had a stronger scent than both of its reformulations.
Despite the original formulation being touted as superior, I do not encourage you to find it as the price is highly marked up on eBay and there are also many fakes. Besides that, the perfume might have turned bad since it is old. This is how the original Dior Addict looks like and its notes: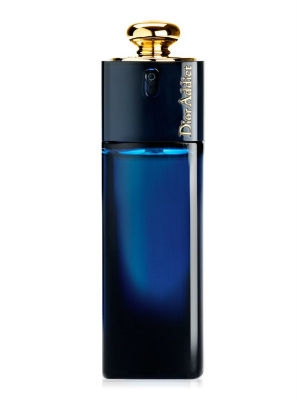 Notes:
Top: Mandarin Leaves, Mulberry Flowers
Middle: Night Queen Flower, Bulgarian Rose, Orange Flower
Base: Bourbon Vanilla, Sandal Wood, Tonka Bean
Dior Addict 2012 Notes and Bottle
While I do not own the original 2002 formulation of Dior, I consider myself very lucky to have snagged the 2012 version of Dior Addict before it was reformulated in 2014. These are the notes of my 2012 version of Dior Addict and the bottle which has a gold ring and a gold cap: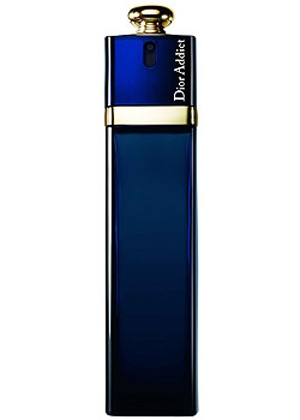 Notes:
Top: Silkwood Blossom, Mandarin Orange, Orange Blossom
Middle: Night Blooming Cereus, Bulgarian Rose
Base: Vanilla, Sandalwood, Tonka Bean
Dior Addict 2014 Notes and Bottle
Dior Addict underwent another reformulation in 2014, and this is the version of Dior Addict you can easily find today. These are the notes of the 2014 version of Dior Addict and the bottle which has a silver ring and a silver cap: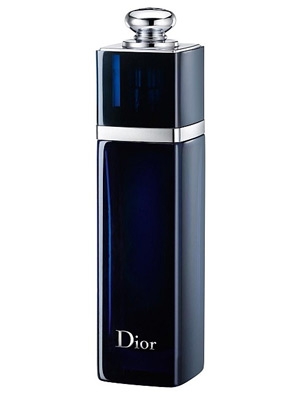 Notes:
Top: Mandarin Leaves, Mulberry Flowers
Middle: Night Queen Flower, Bulgarian Rose, Orange Flower
Base: Bourbon Vanilla, Sandal Wood, Tonka Bean
Dior Addict Perfume Review
There are differing opinions on whether the 2012 version or the 2014 version of Dior Addict smells better. I have not compared them side by side but I am glad to have the 2012 version as it is now a rare perfume. I believe both versions should smell about the same to the untrained nose that is not so picky.
The first time I tried Dior Addict, I was like "Ugh, what is this?", because the top notes were a little screechy. It was incense-like which reminded me of some kind of traditional religious ceremony. However, the true beauty of it revealed itself after 10 minutes.
It was this part that made me fell in love with Dior Addict. I just couldn't stop sniffing my wrist because Dior Addict is a smouldering, rich vanilla scent with smoky incense and exotic spices. It is not the cutesy, cupcake kind of vanilla scent which is present in many perfumes that mainly target young people. In contrast, Dior Addict is on a different league from the typical vanilla perfumes as it is a dark, hypnotic and bewitching vanilla fragrance. Hence, you can call Dior Addict a classier vanilla-based perfume.
Dior Addict is indeed a very high quality perfume not only in terms of complexity, but also because its sillage and lasting power (~12 hours) are tremendous. Thus, it really makes you think about what has happened to the quality of most Eau de Parfum churned out these days.
Needless to say, after that moment of enchantment, I would go to Dior store whenever I could to spritz some lovely Dior Addict on my wrist, much to the annoyance of the saleswoman. Due to the price, I had always held back from buying Dior Addict perfume as I was a student who did not have much money.
I had many perfumes on my wish list but Dior Addict was one of the very few perfumes that remained strongly etched in my mind. Therefore, I quickly grabbed one when I could afford it, and there are no regrets but only pure satisfaction. Finally, I have obtained the perfume which I had coveted for so long.
Dior Addict is a perfume I would repurchase after I've used it up. That says a lot about this perfume since I am a person who likes to try new things and gets bored quickly. In other words, it is one of my favorite perfumes in my collection.
Summary of Dior Addict Perfume Review
Pros:
One-of-a-kind and addictive
Haunting, dark, sexy vanilla scent
Strong sillage and longevity
Cons:
| | |
| --- | --- |
| Sillage | |
| Longevity | |
| Value | |
| Uniqueness | |
Rabbit's Love-O-Meter
Where to Buy Dior Addict Perfume
Buy from Perfume.com - FREE Worldwide Shipping with code: FREE69
You might also be interested in:
Elizabeth and James Nirvana Bourbon Review
Vivienne Westwood Boudoir Review – A Perfume That Smells Like Vagina?
6 Best Britney Spears Perfumes To Mark Your Territory
10 Best Old Lady Perfumes You Either Love Or Hate
11 Best Perfumes That Smell Like Rain Or Petrichor
Chloe Eau de Parfum Review – A Perfume That Embodies Femininity