Britney Spears Rocker Femme Fantasy Review
Britney Spears Rocker Femme Fantasy EDP was released in 2014 as a flanker to Britney Spears Fantasy. Both Rocker Femme Fantasy and Fantasy bottles have similar designs except that Rocker Femme Fantasy bottle has a dark bottom and black studs to match its rocker theme. While the rocker look is complete, I would not say that the juice has a rocker vibe to it.
Britney Spears Rocker Femme Fantasy Notes and Bottle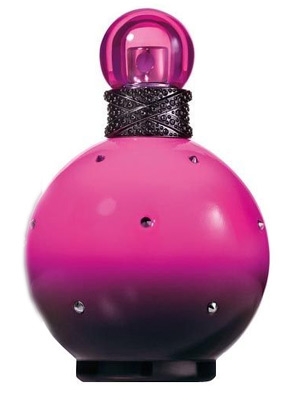 Notes:
Top: Blackberry Liqueur, Coconut Cream, Whipped Cream
Middle: Violet, Gardenia, Jasmine
Base: Amber, musk, Cashmere, Vanilla
Britney Spears Rocker Femme Fantasy Review
I think Miss Britney looks kinda stiff and uncomfortable in the advertisement above. What comes to mind when you think of a rocker-themed perfume? As for me, I think of something bold, fierce, and maybe a little angry. This is not the case with Britney Spears Rocker Femme Fantasy perfume as it still smells very girly with nothing rock to it. However, I don't mind the misleading marketing strategy as long as I enjoy the scent.
Britney Spears Rocker Femme Fantasy is a true flanker of Britney Spears Fantasy. Rocker Femme Fantasy certainly has the DNA of Fantasy, so those who have smelled Fantasy before will definitely be reminded of Fantasy when they smell Rocker Femme Fantasy for the first time.
In fact, some people think there is hardly any difference that would warrant the purchase of both Fantasy and Rocker Femme Fantasy perfumes. To me though, there is an obvious difference between Rocker Femme Fantasy and Fantasy even though they share the same DNA.
The main difference between the smell of Rocker Femme Fantasy and Fantasy is attributed to the different fruits used in the perfumes. Rocker Femme Fantasy has an apparent blackberry note while Fantasy has kiwi in it.
I would say that Rocker Femme Fantasy has more of a sour fruit scent compared to Fantasy. In addition, I definitely don't pick up the creamy coconut scent that some reviewers claim Rocker Femme Fantasy has. Unlike some other opinions, I don't think Rocker Femme Fantasy smells smoother than Fantasy.
To me, Rocker Femme Fantasy is basically sour blackberries plus a watered down base of Fantasy. I am not so much a fan of sour fruits so I prefer Fantasy which is prettier with its cupcake notes. If you have not try either Rocker Femme Fantasy or Fantasy, I would recommend the latter.
However, if you have tried and love Fantasy, then Rocker Femme Fantasy is worth a try to switch things up a little. After all, I heard that Rocker Femme Fantasy is a limited edition perfume so you may want to grab one before it's gone. On the other hand, you may want to try other Britney Spears perfumes that I recommend.
Summary of Britney Spears Rocker Femme Fantasy Review
Pros:
Affordable
Suitable as a daily, inoffensive scent
Fantasy fans may enjoy this twist instead of purchasing the regular Fantasy again
Cons:
Some people may find it too similar to Fantasy
It claims to have rocker theme but it does not smell like that
| | |
| --- | --- |
| Sillage | |
| Longevity | |
| Value | |
| Uniqueness | |
Rabbit's Love-O-Meter
Where to Buy Britney Spears Rocker Femme Fantasy
Buy from Perfume.com - FREE Worldwide Shipping with code: FREE69
You might also be interested in:
Britney Spears Midnight Fantasy review
Britney Spears Private Show review
6 Best Britney Spears Perfumes To Mark Your Territory
10 Best Perfume Bottle Designs You Can't Help Admiring
10 Best Old Lady Perfumes You Either Love Or Hate