Beyonce Pulse Review – Should I Put A Ring On It?
Bruno Jovanovic is the perfumer responsible for the creation of Beyonce Pulse. Beyonce's concert outfits became the source of inspiration for the futuristic-looking bottle design of Beyonce Pulse. Besides that, the light blue juice really gives the perfume a modern look. Some people may find that the bottle looks tacky though. Nevertheless, it is indeed a unique bottle.
Beyonce Pulse Notes and Bottle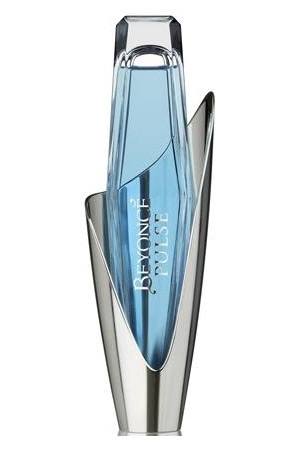 Notes:
Top: Pear Blossom, Accord of Blue Curacao Liqueur, Frosted Bergamot
Middle: Bluebird Orchid, Delicate Peony, Midnight Blooming Jasmine
Base: Madagascar Vanilla Infusion, Intoxicating Musk, Precious Woods
Beyonce Pulse Review
Firstly, just look at the ad above: "FEEL THE POWER". "ELECTRIC".
The description on the official website for Beyonce's perfumes basically says that Beyonce Pulse has an energy which is impossible to disregard. From that description, Beyonce Pulse seemed like it would be a really strong and bold perfume. Unfortunately, the energy meant was synthetic orange juice.
When I look at the notes, Blue Curacao Liqueur catches my eye as it sounds like such an exotic ingredient. I have no idea what it is supposed to smell like but I am convinced that it smells very much like oranges. This is because Beyonce Pulse smells like anything that contains synthetic orange flavor. For instance, synthetic orange juice, orange creamsicle, or even Vitamin C chewable tablets.
There is also a very tiny hint of powder scent if you really try to smell it. Nevertheless, I wonder why the scent of Beyonce Pulse requires a bunch of different ingredients because I can hardly smell anything besides synthetic orange scent with a tiny bit of powder. You can recreate this smell easily by melting an orange popsicle or dissolving a Vitamin C tablet.
Usually when it comes to perfumes, citrus notes would be the top notes that would go away after a while and then different scents of the middle notes and base notes would reveal their beauty. Beyonce Pulse is just citrus from the beginning until the end. I don't mind linear perfumes if the scent is good but Beyonce Pulse is linear and unexciting.
The longevity and sillage are moderate but I don't care. You may like it though if you are into fragrances that smell like oranges (albeit synthetic). This bad experience does not deter me from trying other Beyonce's fragrances though as Beyonce Pulse may be the only black sheep in her perfume collection.
My generous friend who was looking to declutter her collection gave me a preloved Beyonce Pulse EDP. While I am thankful for her generosity, I quickly swapped away my Beyonce Pulse 2 days after I received it. I did not even bother to decant it as a memory because I am certain that I would not miss it. That's how unimpressed I was with Beyonce Pulse.
Beyonce is a huge star who is talented in many areas but she had really overlooked the creation of Beyonce Pulse. The quality is just not there as Beyonce Pulse certainly smells cheap. Not to mention, I am really turned off by the synthetic orange scent. To sum up in Beyonce's fashion, I don't like it and I don't want to put a ring on it.
Summary of Beyonce Pulse Review
Pros:
Futuristic bottle design with light blue perfume
Cheap
Cons:
Smells like synthetic orange flavor
| | |
| --- | --- |
| Sillage | |
| Longevity | |
| Value | |
| Uniqueness | |
Rabbit's Love-O-Meter
Where to Buy Beyonce Pulse
Buy from Perfume.com - FREE Worldwide Shipping with code: FREE69

You might also be interested in:
Dior Addict Perfume Review – A Haunting Vanilla Scent
Elizabeth and James Nirvana Bourbon Review
Vivienne Westwood Boudoir Review – A Perfume That Smells Like Vagina?
6 Best Britney Spears Perfumes To Mark Your Territory
Viktor And Rolf Flowerbomb Review
6 Best Light Perfumes For Work